Making VALIDATE® ordering easier!
---
Subscribe now
The LGC Clinical Diagnostics' | Maine Standards' YES Program creates a Hassle-Free Automatic Testing Schedule. Your calibration verification and AMR verification materials are shipped according to your schedule and your test menu. Reminders are emailed twice a year, on the same timeline as CAP, to alert you when testing is due.
Benefits
Our YES program not only provides customized, on-time shipping, but comes with these additional benefits:
Quick Data Turnaround
Access to our Technical Support Team
Ready-to-Use Linearity Sets
Multiple Product Configurations
Next Steps
Fill out the form to subscribe and a representative will contact you to discuss and customize your order.
To access updated information and a menu of our VALIDATE® product portfolio, click here.
If you have questions, email CDx-Sales@lgcgroup.com.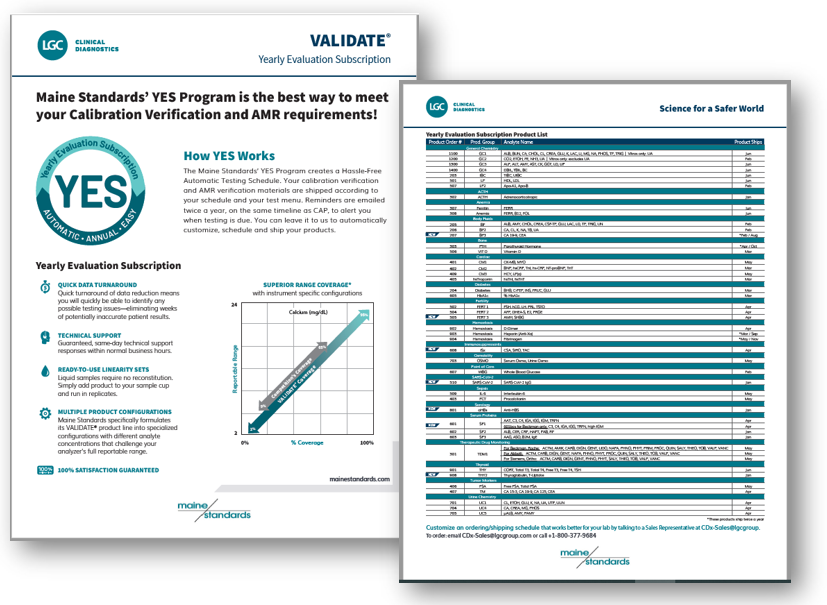 A Portfolio of Quality Measurement Tools for Your Lab
LGC Clinical Diagnostics' Quality Measurement Tools are liquid, ready-to-use, and deliver efficiencies, allowing laboratories to report patient results with confidence. Learn how to simplify your laboratory operations by downloading our information sheet below.